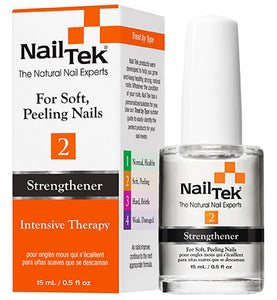 Nail Tek II: Intensive Therapy 
for soft peeling nails. 
If you wish to apply nail polish on your nails, you can use this product as a base coat and a strengthening treatment.

Intensive Therapy improves weak, thin, soft, or peeling nails. This unique protein formulation seals the layers of the nail together. With each application, it reinforces and thickens nails while promoting strength and flexibility.


Directions:
Begin with clean nails and shape them. Treat with one coat of Nail Tek applied as a base coat. Color with two coats of your favorite shade of nail polish. Protect with top coat. Apply daily as a top coat over polish. After one week, remove all polish and begin again.
NOTE: This item will be shipped without the box.