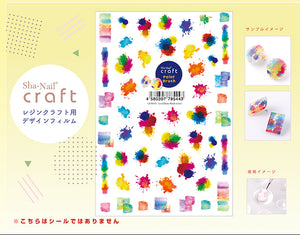 It can be used in 2 ways: "cut" and "transfer"!
Design film for resin comes out from photo nails ! Photo nail craft (resin film) is a design film that can be cut with scissors and embedded in the resin as it is. Fashionable and trendy fashionable design makes the finish of the craft much more beautiful ♪ With
super delicate printing, the three-dimensional effect when embedded in the resin is amazing! The 75-micron ultra-thin film makes the edges less noticeable.

- Specifications -
◇ Product Size: 148mm × 100mm vertical postcard size
◇ Material: film PET, exterior: PP
◇ Made in Japan

- PRECAUTIONS -
◇ This is a film for the craft rather than a nail sticker.
◇ Please keep away from fire and heat.
◇ Be careful not to accidentally put into the mouth of small children or pets.